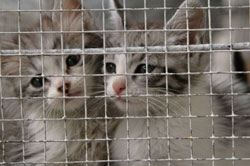 Ease your concerns about leaving your pet behind while you're away: Let our qualified staff take care of him or her. We will provide your dog or cat with a safe, comfortable, "home away from home" atmosphere. We are happy to accommodate any special care or needs your pet might have. Just let us know when you make the reservation.
We provide amenities such as clean bedding and food and water bowls. We will administer any needed medication and follow your specified feeding regimen. (Alternately, we can provide a high-quality diet and treats for no extra charge, although eating their own food tends to agree better with most boarded pets.) We can also provide grooming services before you pick up your pet. Unfortunately, we do not take in personal items such as toys, bowls, and bedding, as they frequently get lost in our laundry and may not be recovered.
Veterinary technicians regularly check on the pets, and our kennel staff monitor the boarding area. You have the added benefit of knowing that one of our clinicians will promptly begin treatment if your pet gets sick during his or her stay.
To keep all our patients as healthy as possible, we require pets that are boarding with us to have current vaccinations. Required vaccinations for dogs are rabies, distemper/parvo, leptospirosis, and bordetella. Required vaccinations for cats are rabies, respiratory, and distemper.
Cat & Small Dog Kennels
Our 4 ft. by 4 ft. kennels are designed for cats and small dogs. We have 48 kennels of this size that are in 4 rows of 12. There are 6 kennels on floor level with a row of 6 stacked on top of them.
Large & Extra Large Indoor Runs
Our large and extra large kennels are indoor runs that are chain linked from floor to ceiling. This is to prevent a dog from making physical contact with the dog next to it while still being able to see its neighbor. We have 18 – 4 ft. by 6 ft. runs that are designed for large dogs. We also have two 5 ft. by 8 ft. runs designed for extra large dogs or for accommodating families with multiple pets who can stay in the same run.
Outdoor Runs
Our outdoor runs are chain linked and have a solid roof over them, so even in bad weather your pet has the opportunity to go outside without getting rained or snowed on. If the weather is poor we do, however, tend to keep the outdoor time to a minimum to prevent your pet from getting too cold. We take all our dogs out for an extended period twice daily. All 10 of these runs are 4 ft. by 6 ft.